You are here
Back to top
The Worrier's Guide to the End of the World: Love, Loss, and Other Catastrophes--through Italy, India, and Beyond (Paperback)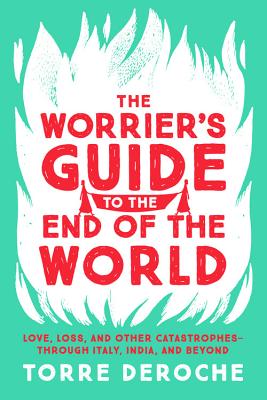 List Price: $16.99
Our Price: $15.29
(Save: $1.70 10%)
Usually Ships in 1-5 Days
Description
---
A funny and heartwarming story of one woman's attempt to walk off a lifetime of fear--with a soulmate, bad shoes, and lots of wine.
Torre DeRoche is at rock bottom following a breakup and her father's death when she crosses paths with the goofy and spirited Masha, who is pusuing her dream of walking the world. When Masha invites Torre to join her pilgrimage through Tuscany--drinking wine, foraging wild berries, and twirling on hillsides--Torre straps on a pair of flimsy street shoes and gets rambling.
But the magical hills of Italy are nothing like the dusty and merciless roads of India where the pair wind up, improvising a pilgrimage in the footsteps of Gandhi along his march to the seaside. Hoping to catch the nobleman's fearlessness by osmosis and end the journey as wise, svelte, and kick-ass warriors, they are instead unravelled by worry that this might be one adventure too far. Coming face-to-face with their worst fears, they discover the power of friendship to save us from our darkest moments.
About the Author
---
Torre DeRoche has been published in the travel writing anthology An Innocent Abroad, alongside Cheryl Strayed, Dave Eggars, Sloane Crosley, Pico Iyer, et al. Her work has also appeared in The Atlantic, The Guardian Travel, Sydney Morning Herald, and Emirates' Open Skies magazine, as well as a range of digital publications. Her blog fearfuladventurer.com has been profiled in Nat Geo, HelloGiggles.com, and hundreds of websites around the world, including Viator's Top 25 Travel Blogs of 2015.
Praise For…
---
"Like so many of us, Torre DeRoche is wracked with fear, doubt, uncertainty, anxiety; unlike so many of us DeRoche figured she might as well walk 250 miles through India. Which she does, with humor, grace, insight and a fair amount of grit, too, in this lovely and wholly uplifting account of confronting our fears... Luckily (and always enviously) in The Worrier's Guide to the End of the World we get to tag along."

--- Carl Hoffman, bestselling author of Savage Harvest


"Torre's managed to write a witty and engrossing tale of loss, pain, and transformation that captivates the reader as magically as her first book. Like her previous work, I couldn't put it down! I highly recommend it!"

--- Matt Kepnes, New York Times Bestselling Author of How to Travel the World on $50 a Day

"A moving account of conquering fears while walking a pilgrim's path. Also funny as f@#k."

--- Janice MacLeod, author of New York Times bestseller Paris Letters



"Each journey provides valuable lessons about embracing the unexpected and releasing control. DeRoche's writing is conversational and her humor, in shades of black, is copious...a page-turning memoir."
—Booklist

"A pair of fearless female friends team up on a journey through India and Italy in a memoir about courage, loss and resilience."—The New York Post, "Required Reading" list

"Full of relatable, funny and moving advice for anyone who has longed to see the world but felt that niggling feeling that wants to hold them back. Best of all, it demonstrates that the best way to confront fear is to meet it head on, and to laugh at it along the journey."—BUST.com